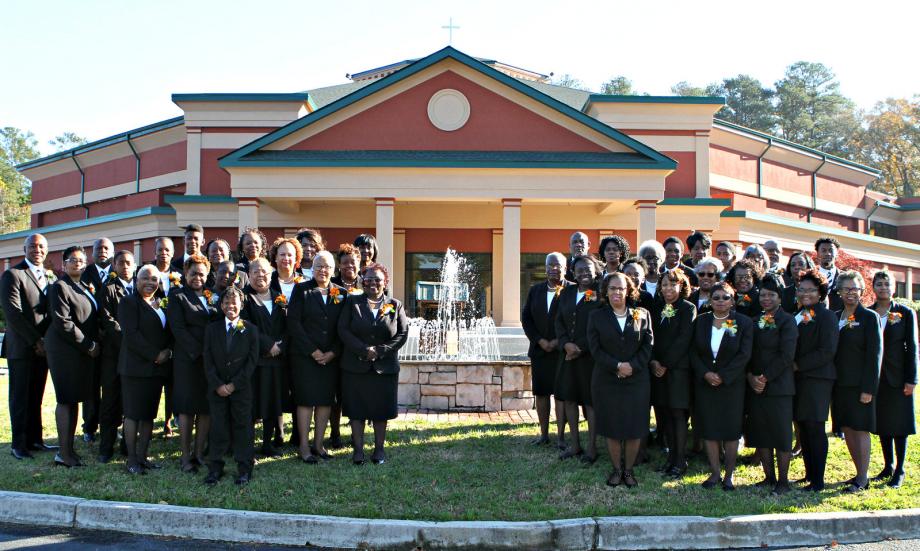 Usher Ministry
We are therefore Christ's Ambassadors as though God were making his appeal through us. We employ you on Christ's behalf; be reconciled to God" (2 Cor. 5:20)
---
Mission Statement
Serve as Doorkeeper's with Congeniality.
I had rather be a doorkeeper in the house of my God, than to dwell in the tents of wickedness (Psalms 84:10)
Purpose
To Promote; To Serve; To Maintain Order
Governance
The Fountain of Faith Missionary Baptist Church Usher Ministry shall be governed first by the Spirit of God. All concerns should first go to Usher Ministry Deacon (assigned by the Pastor as his designee), and the Usher Ministry officers. All unresolved issues will be directed by Ministry Deacon to the Board of Directors (BOD), the governing agency for the entire church.
Membership
All Usher Ministry members shall be a member of Fountain of Faith, and have completed New Members in Motion Classes.
---
Usher Ministry General Membership Meeting
Meetings are held the second Monday night of each month 7:00 p.m. until 8:00 p.m
---
THE USHER REPRESENTS THE CHURCH
The usher stands for and is part of the church. The usher is the first person the worshiper comes in contact with in the sanctuary, and the usher must show individual interest in each person. The usher's personality, words, and actions will largely set the tempo of the church service for the worshiper and may determine whether or not people come back again.
SIX QUALIFICATIONS FOR AN USHER
1. CHRISTIAN – To be a good usher, you must first be a Christian. Ushers are considered servants because of the office they hold in the church. Unless the ushers possess that true doctrine taught by our Savior and are filled with the true love of God in their hearts, they are out of harmony with what Christianity stands for.
COURTEOUS – The one outstanding duty of an usher is to be courteous. That is the watch word at all services. If we fail to be courteous to our guest and worshipers, we have failed Christ just that much.
A courteous usher will have the urgent need of true fellowship, a loving personality, and a pleasant smile.

ALERT – Alert means to always be on the watch and quick to act. A good usher will look out for the disabled, sick, or for any emergency that may arise.
PROMPT – To be prompt means to be quick to act as the occasion demands. A prompt usher is an asset to his/her leader, always on time, and dependable.
COURAGEOUS – A courageous usher is one who can face life with a smile when things are not so pleasant. He/she can meet his obligations, sorrows and joys half way. A courageous usher strives to lift his fellow man to a better understanding toward "peace on earth and goodwill toward mankind"; he/she never doubts himself, is ready to give a helping hand when it is needed; and never becomes so discouraged that he/she leaves a task undone because of being criticized or ridiculed.
To be a courageous usher, you must have faith in God. Only faith in God and in His way of life gives us the courage needed to face the tests of life.

DISCIPLINE – The greatest factor in the success of any Usher Ministry or group is the discipline with which it is controlled. Our guidance must come from within, motivated by our love for our work and our love for GOD.
For more information, please contact:
Diadra Ackols, President: dackols@kw.com - 404-557-2767
Barbara Tillery, Vice President: bet2697@aol.com - 404-316-6206